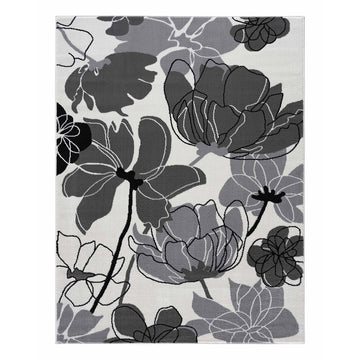 Width
2.0 ft.
Length
3.0 ft.
$81
$32
60% Off, save $49
Size: 2x3
Item no: WB-LGN40225-2x3
Enhance the elegance of your living space with the Laguna Dark Gray Floral Indoor Area Rug from Beverly Rug. This exquisite rug measures 2x3 feet, making it perfect for small areas such as entryways or kitchenettes. The captivating dark gray color adds a touch of sophistication to any room, while the intricate floral pattern creates a sense of timeless beauty. Crafted with the utmost care, this rug is made from high-quality materials that ensure durability and longevity. Its soft and plush texture provides a comfortable surface to walk on, making it ideal for barefoot relaxation. The Laguna Dark Gray Floral Indoor Area Rug effortlessly complements various decor styles, from modern to traditional, making it a versatile addition to your home. Priced at just $32, this rug offers exceptional value for money. With its item number WB-LGN40225-2x3, it is easy to identify and order. Transform your space into a haven of style and comfort with the Laguna Dark Gray Floral Indoor Area Rug from

See all rug details...
Disclosure: We may earn a commission for purchases made through our links.
Other Floral Rugs You Might Like